Banspresso Nº13 - Dragon fruit, Passion fruit & Banana
Per box:
178,5
G carbohydrate
0
G fat
6
G protein
Exotic juice with dragon fruit and passion fruit
A wonderfully surprising fruit juice, if we do say so ourselves, with a combination of tropical and traditional Dutch fruit. Apple has been chosen for the base. We know apples, healthy, fresh and sweet and almost everyone likes them. But you may not know dragon fruit yet. This striking Asian fruit, also called dragon fruit or pitaya, gives a beautiful purple-red color to this fruit juice.
Vitamin C bomb
In addition to a beautiful appearance, dragon fruit is rich in vitamin C, calcium and antioxidants. So much power in a fruit, that makes us happy. The passion fruit is also a good source of nutrients. Together with banana, it is a delicious exotic mix with many vitamins, minerals and antioxidants. It contains both vitamin C and the minerals potassium, magnesium and phosphate. With the basis of a freshly squeezed apple juice you are already in the right place. And the combination with the exotic fruit leads to a delicious slightly sour taste explosion. at dr. Blend is important to us to offer quality and to continue to innovate. This unique composition of different fruits is a combination of fruits that you do not eat every day. A surprising fruit juice for a new experience, which should not be missing in your fridge. Taste it and you'll know why...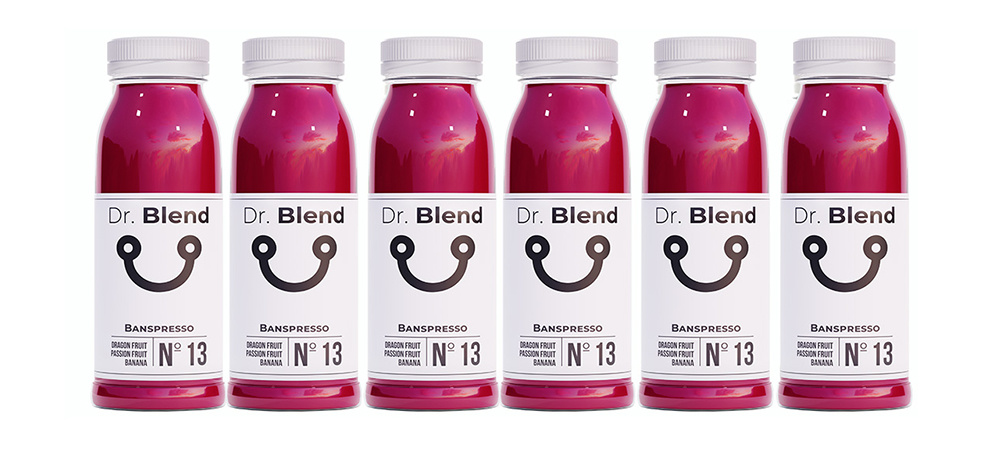 NUTRITIONAL VALUE PER 100ML
| | |
| --- | --- |
| Energy value (kcal) | 51 kcal |
| Energy value (kJ) | 215 kJ |
| fats | 0.0 g |
| Saturated fats | 0.0 g |
| Carbohydrates | 11.9 grams |
| sugars | 9.5g |
| Fiber | 0.5g |
| Protein | 0.4 g |
| Salty | 0.009g |
INGREDIENTS
| | |
| --- | --- |
| Apple juice | 59.00% |
| dragon fruit puree | 30.00% |
| passion fruit juice | 6.00% |
| banana puree | 5.00% |