CarryOn Nº3 - Carrot, Cucumber & Celery
Per box:
60
G carbohydrate
3
G fat
9
G protein
Powerful carrot juice
This carrot juice contains no less than 95% vegetables. In addition to carrot, this juice contains cucumber and celery. Carrot juice has a slightly sweet taste, the cucumber and celery give it a fresh bitter taste. If you want to know more about cucumber nutritional value and other ingredients, check out our ingredients page. Lime has been added to the juice to give the juice a fresh acidity, which has resulted in a delicious healthy juice. This orange juice is also very low in calories, which is beneficial when you want to lose weight.

Vitamin Awesome
Did you know that the beautiful orange color of carrots, and therefore this juice, is due to the beta-carotene substance? The body converts these high concentrations of beta-carotene into vitamin A, which you benefit from. Besides that vitamin A supports your resistance, your eyes benefit from it and it ensures healthy skin. Beta-carotene is an important antioxidant and has the positive effect of slowing down aging in a natural way. Carrots also contain various minerals such as iron, copper, sodium, potassium, calcium, zinc and phosphate. Cucumber and celery contain vitamins C and K and a number of minerals. These vegetables have a diuretic effect due to the various minerals it contains and can also contribute to a more beautiful skin, hair and nails. Several reasons for you to order this orange juice.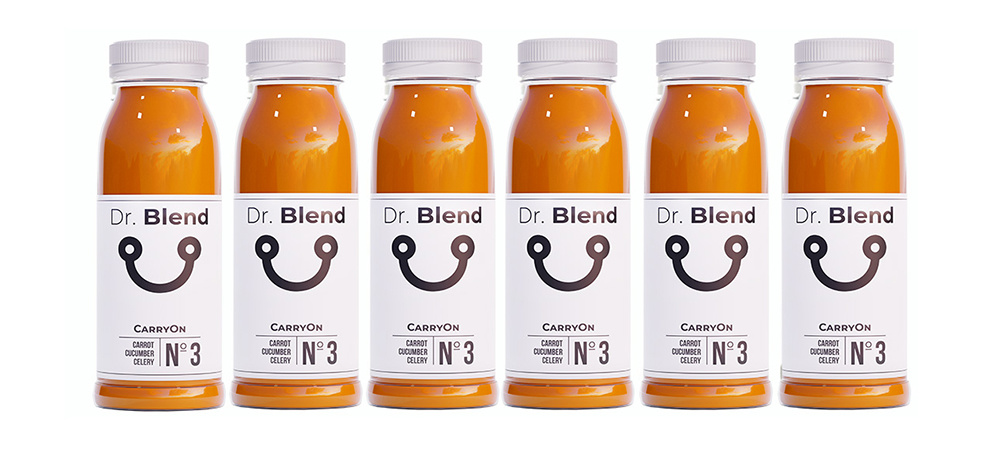 NUTRITIONAL VALUE PER 100ML
| | |
| --- | --- |
| Energy value (kcal) | 21 kcal |
| Energy value (kJ) | 88 kJ |
| fats | 0.2 g |
| Saturated fats | 0.0 g |
| Carbohydrates | 4.0 grams |
| sugars | 3.8g |
| Fiber | 0.2 g |
| Protein | 0.6 g |
| Sodium | 29mg |
| Salty | 72mg |
INGREDIENTS
| | |
| --- | --- |
| carrot juice | 40.00% |
| cucumber juice | 35.00% |
| celery juice | 20.00% |
| Lemon juice | 5.00% |