Coco Nº10 - Coconut Water
Per box:
67,5
G carbohydrate
1,5
G fat
7,5
G protein
We have added pure coconut water to our Dr. Blend because it contains a mixture of helpful substances like magnesium, phosphor, iron, copper, vitamin B, vitamin C and potassium. Your body needs enough of these in order to let your body, organs, brain and nervous system function properly and stay healthy. The high level of potassium in coconut water benefits your muscle contraction, and the production of proteins and glycogen that keep your muscles filled with energy.

Furthermore coconut water hydrates your body five times more as water does. Plus coconut water not only hydrates, it also helps to drain toxins from your body more easily.

Coconut water strengthens the immune system, has an anti-inflammatory effect and counters the ageing of your skin with the help of cytokins. The vitamin C improves the production of collagen that keeps the skin flexible and healthy.

Buy your coconut water online at Dr. Blend.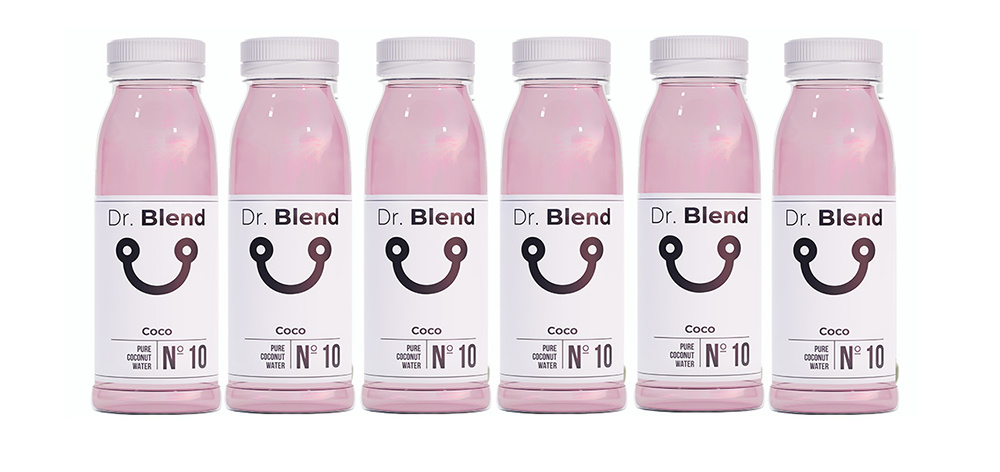 NUTRITIONAL VALUE PER 100ML
| | |
| --- | --- |
| Energetic value (kcal) | 21 kcal |
| Energetic value (kJ) | 91 kJ |
| Total fat | 0,1 g |
| Saturated fat | 0,1 g |
| Carbohydrates | 4,5 g |
| Sugars | 4,3 g |
| Fibres | 0,0 g |
| Proteins | 0,5 g |
| Sodium | 7 mg |
| Salt | 18 mg |