Green Machine Nº6 - Spinach, Cucumber & Celery
Per box:
67,5
G carbohydrate
3
G fat
15
G protein
Dark green vegetable juice
Due to the composition of cucumber, spinach and celery, this is a delicious green vegetable juice. A small addition of apple and lime makes this juice nice and fresh. With this green juice you give your resistance a boost and it is thirst-quenching. A juice that you can use to replenish your nutrients. Due to the cold pressing, all nutrients are preserved and are quickly absorbed. A juice that should not be missing in your fridge.

Plenty of energy!
Fresh spinach is rich in vitamins and minerals and therefore gives the boost of healthy substances in this juice. But also celery and cucumber both offer positive effects. Cucumber contains a large percentage of water, which makes cucumber juice very moisturizing. Celery juice is known to help with bloating. The vegetables in this juice contain the important minerals potassium, magnesium, sodium and calcium which are also electrolytes. Electrolytes are important in the transport of nutrients and waste to and from cells. It also helps regulate nerve and muscle function. Phosphorus plays various roles in the body and, among other things, increases endurance and combats fatigue. This green juice also contains many antioxidants, such as beta-carotene, vitamin C and zinc, obtained from the leafy vegetables, celery and apple. A nice mix of positivity.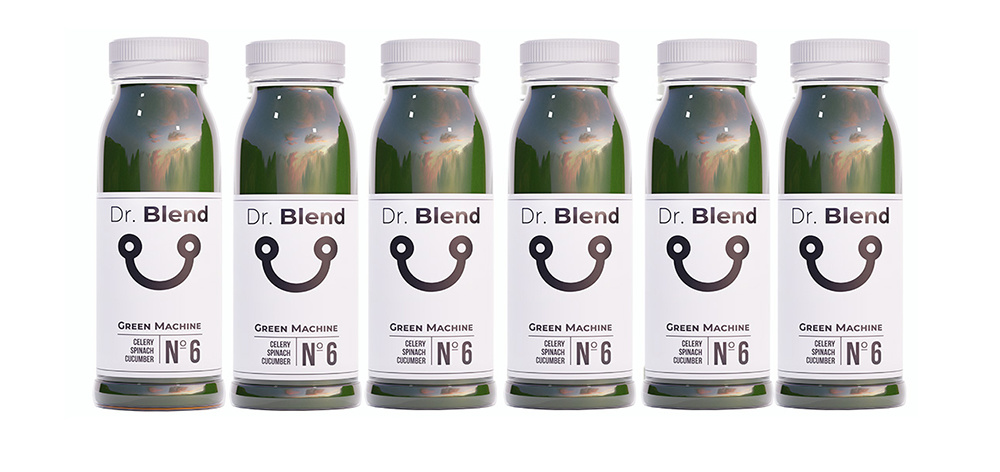 NUTRITIONAL VALUE PER 100ML
| | |
| --- | --- |
| Energy value (kcal) | 24 kcal |
| Energy value (kJ) | 103 kJ |
| fats | 0.2 g |
| Saturated fats | 0.0 g |
| Carbohydrates | 4.5 g |
| sugars | 4.0 grams |
| Fiber | 0.3 g |
| Protein | 1.0 g |
| Sodium | 14mg |
| Salty | 35mg |
INGREDIENTS
| | |
| --- | --- |
| spinach juice | 25.00% |
| cucumber juice | 25.00% |
| Apple juice | 25.00% |
| celery juice | 20.00% |
| Lemon juice | 5.00% |